Better late than never!
Halfway through the month and I've just signed up for
Socktoberfest 2006
. I had heard rumblings of it throughout the knitting blogland, but I only just explored it and found that it is "a month-long celebration of socks". Well I have three pairs of socks currently on needles, plans for at least two more, plus I have a bag of five half-finished socks to finish/re-knit for my mother's friend! My life is already a celebration of socks, so I'm in. Can you believe that
1880 people
have already signed up?? I guess sock knitting is the new black!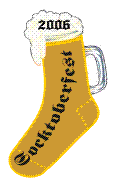 And check out this great image! Considering my propensity for knitting at the Carleton Tavern with beer close at hand...how could I resist?